Lahišyn - is a town of Pinsk district, Brest region of Belarus. The city Lahišyn can be found almost exemplary and very typical of the architectural ensemble of Belarus - the Catholic church and the Orthodox church nearby in the same square in the historic city centre. This situation is very characteristic of small towns and villages in Belarus and, in some way, these are the architectural ensembles in the historic part of Belarusian cities can even be considered the hallmark of the country and its visible difference from the neighbors. The fact that such a situation on a regular basis can be found only in Belarus.
Of course, in other countries, too, can find churches of different Christian denominations nearby, but only in Belarus - this is a national trend, which reflects very well the history and mentality of our people. After all, Belarus has for many centuries, peacefully and harmoniously live side by side and work together representatives of the two major Christian denominations. In Belarus, there are many towns and villages, where such architectural ensembles, including the Catholic and Orthodox churches, have not survived, although historically they were there. The more valuable all the remaining, surviving such examples, including the churches in the city Lahišyn, since they are not just architectural monuments, and elements of the national historical and cultural identity of the Belarusians.
So, one of the main attractions of the city Lahišyn is the Catholic church of Saints Peter and Paul. This temple was built in the gothic revival style in 1909. The temple is not very big, but has a very memorable appearance. Today, the church in the city Lahišyn is in excellent condition and is an important architectural monument of the early 20th century, the cultural and historical value and attraction of Belarus. It should also be mentioned that in the church in the city Lahišyn houses one of the most revered Catholic icon of Belarus, namely the icon of the Mother of God, which has a separate name: "Queen of Polesie". For this reason the church in the city Lahišyn also has the status of the Diocesan Sanctuary of the Mother of God.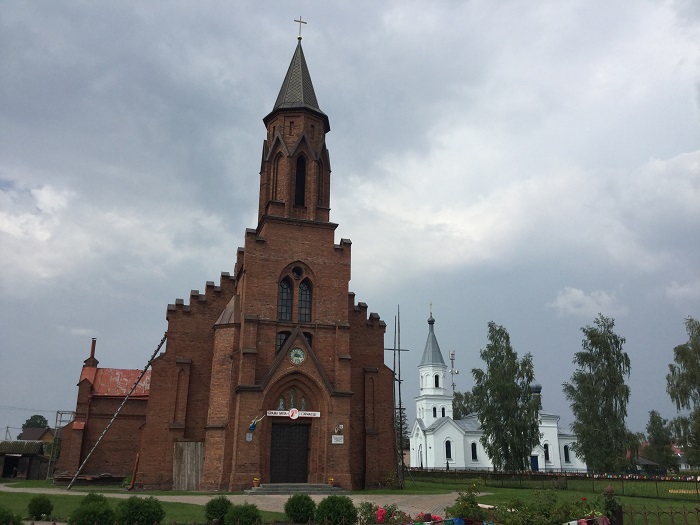 Another attraction of the city Lahišyn is the Orthodox Transfiguration Church. This temple was built in the second half of the 19th century in retrospect-russian style. Today the church in the city Lahišyn is in very good condition and acting. This temple is also an interesting architectural monument of cultural and historical value of Belarus.
The city Lahišyn has several small historic buildings, which are located on the same square as the temples above. These buildings nice excursions to historic district. Particularly noteworthy is an Orthodox chapel, located between the churches. This chapel, like the Orthodox church, to which she refers, was built in the 19th century. Other historic buildings of the city Lahišyn were built in the early 20th century, and may be classified as an ordinary city building.