Varona - is the large village of Astravyets district, Grodno region of Belarus. The main attraction of the village of Varona is the Catholic church of St. George. The village of Varona in the 15th century was called Varniany, like those Varniany, which are a few kilometers from modern village Varona. In addition, in those days in these places there was another village called Varniany. The history of all three villages in historical documents is very mixed, and now it is very difficult to establish reliably any facts, dates and circumstances of the construction of the Catholic church of St. George in the village of Varona. Only from the middle of the XVII century, the current name Varona was assigned to this village. Of course, now everyone has the word "varona" (crow) only associated with a bird, but for sure the name of the village has nothing to do with birds, but comes from the Belarusian word "vorny", that is, "arable". This means that there were many good arable lands where it was possible to plow and sow. Also, perhaps, the name of this village comes from the word "varouny", which means "guard" or "watchman".
Apparently, at the end of the XVI or at the beginning of the XVII century in the village of Varona laid a brick Calvinist temple, that is, a Protestant church. Accurate information about the circumstances of its construction has not been preserved, in particular, due to confusion in the names. Later, in the 1680s, this temple was re-consecrated to the Catholic church of St. George by the Bishop of Vilna. It is likely that a little later, at the beginning of the XVIII century, the church was slightly rebuilt in the late Baroque style. However, the appearance of the former Protestant temple is still guessed. The Catholic church of St. George in the village of Varona was very rich, he owned a lot of land in the vicinity of Varona, and once on the nearby lake there was a water mill, which also belonged to the church. But the wheels of the mill no longer spin, only stones remained from it.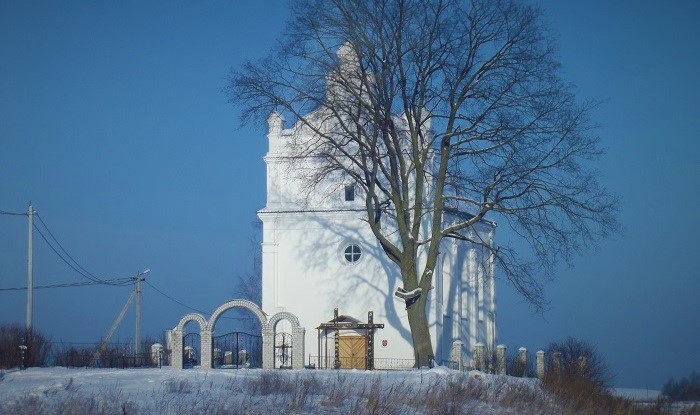 Either during World War II, or later in Soviet times, but the church in the village of Varona was destroyed. By the end of the 20th century, only walls remained of it. At the moment, the Catholic church of St. George is almost completely restored and has long resumed its full functioning. However, there are still plans to restore some elements of the interior. Near the church is a small burial place for soldiers of the First World War. This small but very ancient temple in the village of Varona is an important architectural monument of culture and history, as well as an interesting attraction of Belarus.